Lay-Byes Help & Information
Bed Brothers is happy to let you know that we offer a 3-6 month lay-bye on most of our products.
Should you wish to take advantage of this facility, please take note of the following:
You will be required to pay the full value of your lay-bye purchase before you can take delivery of it.
We require 10 days notice of your intention to collect your lay-bye purchase.
A 20% cancellation fee will be levelled on any amounts already paid.
To make a purchase using the Lay Bye facility, you must first select the product you wish to Lay Bye. Use the navigation at the top of the website to browse the different accessories or beds we have on offer.
Once you have selected a product you will see a section underneath the product's description that contains a few options. Choose either "Pay in Full" or "Pay Deposit". If you choose "Pay Deposit" you will be presented with the payment options for the different Lay Bye terms. See example below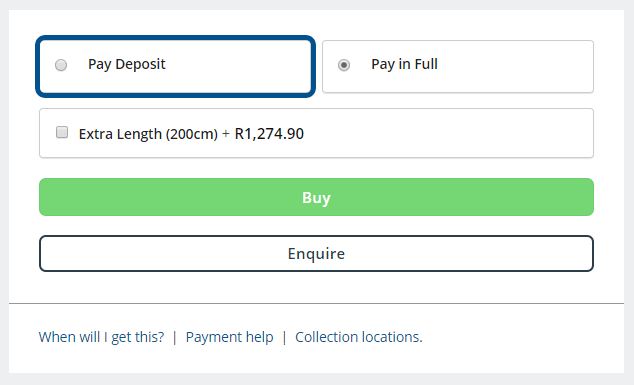 Choose the Lay Bye term you wish to use and the website will automatically calculate your payments for you. You will be shown which payments will be due by which dates. Remember that you will still have to make your first payment on the website or in store to activate your Lay Bye account.
Applying For Credit with Mobicred
Pay day too far away? Buy it now and pay later with Mobicred!
Easy online credit application with an instant response.
With Mobicred you can buy any of the beds, mattress, pillows or protectors on our website. Depending on your credit allowance you can shop and pay as if you were paying with a credit card.
Please Note: You will only be able to pay with Mobicred once you have registered and have been approved by Mobicred
How it works.
Step 1: You have to apply for a Mobicred account on the Mobicred website. Click here to apply for an account
Step 2: After entering all your information into the Mobicred Application page, you will receive a response with your approved credit amount (If you are approved) You can use this credit amount much like a credit card.
Step 3: When you want to spend your Mobicred credits on our website, simply select "Payfast / Mobicred" during checkout and on the PayFast payments screen you can select Mobicred. From here you can type in your Mobicred username and password.
Step 4: After your purchase is approved, you will receive a One Time Pin to enter and finalize the transaction.
Apply for Mobicred